In an international meta-study, researchers are examining the options that each of us has to reduce our individual carbon footprints. A research team led by Professor Dr. Felix Creutzig, head of the Chair of Sustainability Economics of Human Settlements at TU Berlin, has examined some 7,000 journal articles and identified 61 separate possible options and analyzed their potential for reduction. "The area of mobility is particularly promising when viewing our options as individuals," says Felix Creutzig.
Around two thirds of global greenhouse gas emissions are either directly or indirectly attributable to private households. The average per capita emission of carbon dioxide in Europe is approximately 7.5 tons per year (7.5 tCO2eq/cap). This is considerably lower than the figure for North America (13.4 tCO2eq/cap) but a great deal more than that of Africa and the Middle East (1.7 tCO2eq/cap). "These figures alone make it clear that changes in our consumption patterns in Europe are absolutely necessary to curb emissions and slow the rate of climate change," says Creutzig. A clearer and quicker reduction of CO2 emissions is required internationally to achieve the goal of zero net emission by 2050. Only by doing so can we limit the average temperature increase to 1.5°C above that of the pre-industrial era.
In their analysis, the researchers therefore focused on potential improvements in emission levels in the areas of mobility, diet and housing. "In our meta-study, we present 61 consumption options with potential long-term emission reduction," says Creutzig.
The potential is particularly high in the area of transport: Living without a car and switching to a battery-powered vehicle are among the options with the highest potential to limit carbon dioxide emissions. However, even reducing our flight time by one long haul round trip would reduce our annual CO2 per capita emission by more than 1.7 tons.
"Diet is another consumption factor with a high potential for reduction," says Creutzig referring to the study. "Changing to a vegan diet represents an annual per capita reduction potential of 0.9 tons of CO2. But even switching to a vegetarian diet or what is referred to as the Mediterranean diet offers a reduction potential of 0.5 tons of CO2 per year. We can achieve similar savings through our kitchen equipment by using energy-efficient pots and pans or a modern stove, etc. Even smaller changes such as reducing the amount of food we consume overall or the amount of food waste we generate can improve CO2 emissions by on average 0.3 tons.
At the top of the list of options are also changing to renewable energy in our homes as well as renovating our dwellings to make them more energy-efficient.
"Overall, we have been able to ascertain that our top ten options taken together have the potential to reduce emissions by several tons of CO2 per capita per year. This allows us to demonstrate that each individual person can contribute significantly through how they consume to the global goal of limiting temperature increases to 1.5°C to 2°C," Creutzig concludes. "However, at the same time this in no way reduces the role that politics needs to play. For example, a car-free life is only possible if urban administrations provide complete networks of safe bicycle lanes.
Further Information:
You can read the related article in the journal IOPscience.
Contact:
Prof. Dr. Felix Creutzig
TU Berlin
Chair of Sustainabiliy Economics of Human Settlements
Tel.: +49 (0)30 314-73331
creutzig(at)tu-berlin.de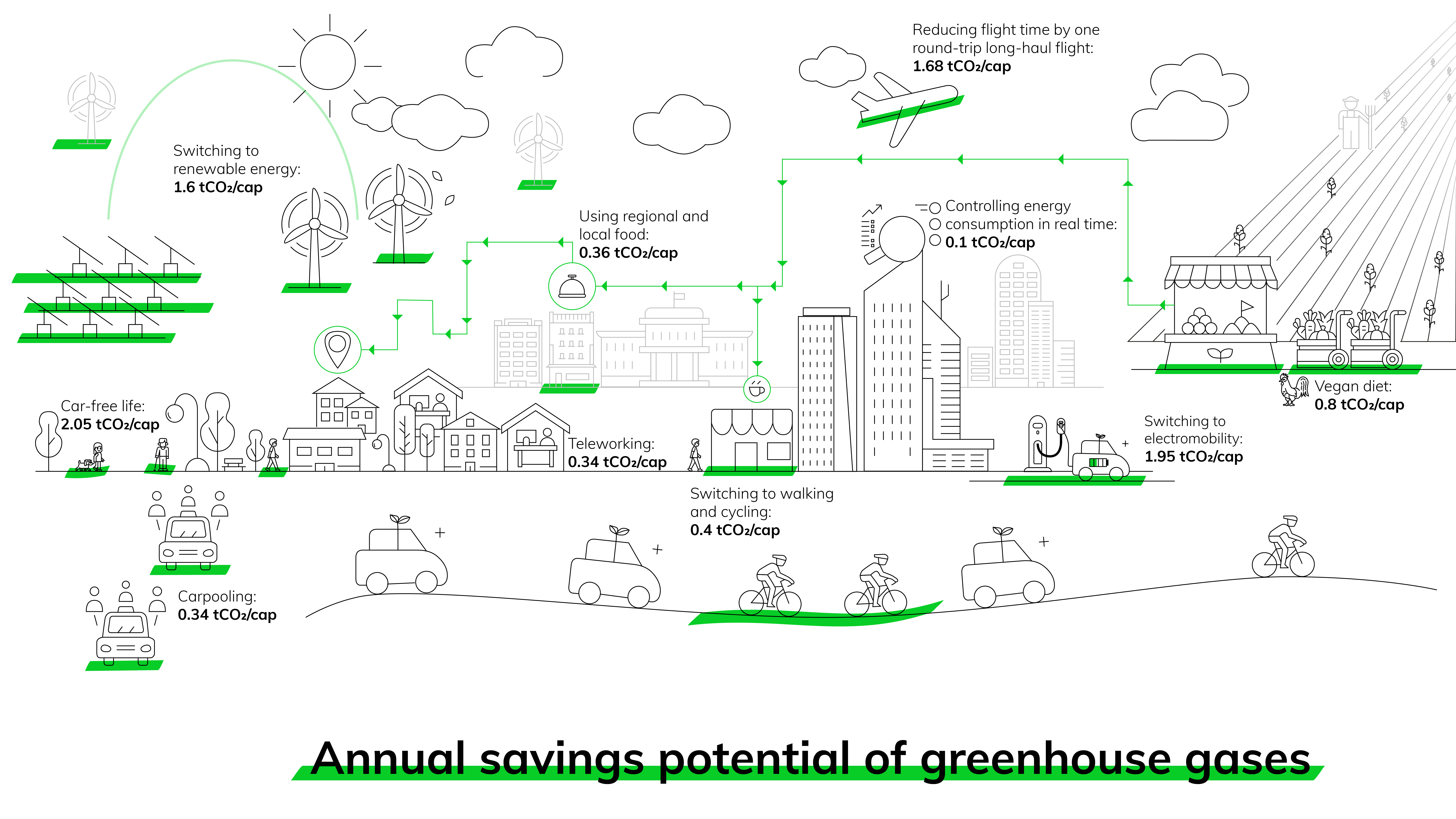 © Janine Rülicke